In this post, we will be exploring the aquamarine crystal meaning from a numerology perspective.
All gemstones or crystals have vibrational energies that we may draw on to improve our lives either from a spiritual, mental, or physical healing perspective.
But there are many views on the meaning of each gemstone or crystal, and it can get rather complicated, lengthy, or confusing to appreciate the healing benefits they can bring.
Nevertheless, there are common grounds of agreement on the benefits of a crystal if you take the time to read up and harmonise them.
I try to do this work here as best as I can. And what I have done further is to cross-reference the common vibrational energy meanings with numerology by understanding the gemstone through the interpretation of the numbers.
It helps to set more stringent criteria to confirm the meaning of a gemstone. And doing so helps to provide added confidence and comfort to know that a gemstone has the desirable vibrational energies that we want.
So let's get right into finding out the aquamarine crystal properties and its benefits!
Aquamarine Crystal Properties
We should first know that aquamarine is a variation of Beryl, and the chemical formula of Beryl is beryllium aluminum cyclosilicate (Be3Al2Si6O18).
---
Aquamarine Colour
Beryl in its original form is colourless and is also called Goshenite.
While being part of the beryl variation, aquamarine has a beautiful transparent or translucent light blue to the greenish-blue colour range.
How aquamarine gets its colour is attributed generally to the presence of oxidation in ferrous iron (Fe2+).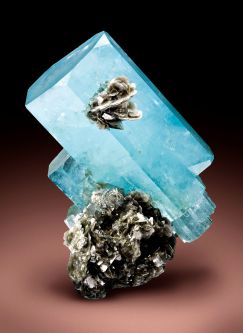 A deeper search to understand how the blue colouration in beryl happens leads to the ferrous-ferric iron ratio.
When the ferrous-ferric ratio is between 0.675 to 1.35, the blue colour starts to dominate (MacCarthy, 1925, p.135)1. The colour differs in other ratios. You can click on the link in the references section below to find out more from that publication if you are interested.
For simplicity, we may hence say that iron (Fe) plays the primary role in providing the blue colour that we see in aquamarine.
---
Other Properties
The following are some of the other properties associated with aquamarine for general reference.
Mohs Scale of Hardness: 7.5 – 8
Crystal System: Hexagonal
Origin: Brazil, Afghanistan, Kenya, Malawi, Madagascar, Mozambique, Nigeria, Pakistan, Russia, Tanzania, Zambia
---
Common Vibrational Energy Meanings of Aquamarine
Aquamarine is commonly described as the Stone of Courage. The following wordings should sufficiently summarise the common vibrational energy meaning of aquamarine:
Enhances courage, reduce stress, and calms the mind
Sharpens intuition and enhance clairvoyance
Improve communication and self-expression
Going by such a definition, aquamarine may look suitable for both Character Root Number 1, The Leader, and Character Root Number 2, The Communicator.
You can refer to my earlier post, Numerology Number Meaning, to have a quick summary of the meaning of the 9 numbers.
A leader character should generally possess the above qualities. Hence, if you want to enhance your vibrational energies in these areas, having a piece of aquamarine crystal in your possession will help you.
---
Character Root Number Derivation and Meanings
To improve the confidence of the above definition, what we can do is to use numerology as a cross-reference.
From a numerology perspective, we can calculate the representative number of a gemstone to understand its vibrational energy through the meaning of the number.
And there are 2 methods we can do this, and these are using the name and using the chemical formula. Generally, the norm is to use the name of the gemstone or crystal to calculate the vibration number / Character Root Number.
But the name of the gemstone can differ across languages. Hence, I have a preference to use the chemical formula as a universal approach and as a further check.
You can read more from my earlier post, Numerology of Gemstone, on this approach.
The ideal state for this theory is that if both methods above plus the common vibrational energy meaning all points to the same interpretation, we can be more assured that the meaning is correct.
Achieving this ideal state can be challenging, but this helps to ringfence the hundreds of gemstone variations down to a handful that is truly meaningful and valuable to own from a numerology perspective.
Of course, it then also depends on whether you need such a stone based on your numerology chart calculation.
Let's have a look at the calculation for aquamarine below.
---
By Name
The calculation to derive the Character Root Number of aquamarine works out as follows:
Based on the above, the Character Root Number is 1 + 8 + 3 + 1 + 4 + 1 + 9 + 9 + 5 + 5 = 46 = 4 + 6 = 1.
The positive and negative characteristics of a Character Root Number 1, Leader, are summarised as follows:
Leadership
Independent
Confident
Organised
Creative
Self-Centered
Lonely
Overestimate yourself
Generally, when we seek to understand the crystal's vibrational energy meanings, we will find positive meanings only.
Hence, when we derive the gemstone energy properties through the number meanings, the assumption is that we will only look at the positive side too.
---
By Chemical Formula
We now look at the Character Root Number derivation of aquamarine using its chemical formula. The chemical composition of aquamarine is beryllium aluminum cyclosilicate with the formula Be3Al2Si6O18.
We will also need to consider the effects of oxidation of the ferrous-ferric iron ratio to provide the blue colour. As such, we will introduce Fe into the formula.
The calculation works out as follows:
| | | | | | | | | |
| --- | --- | --- | --- | --- | --- | --- | --- | --- |
| B3 | e3 | A2 | l2 | S6 | i6 | O18 | F | e |
| 2×3 | 5×3 | 1×2 | 3×2 | 1×6 | 9×6 | 6×18 | 6 | 5 |
| 6 | 15 | 2 | 6 | 6 | 54 | 108 | 6 | 5 |
Based on the above translation from alphabets to numbers, the Character Root Number is 6 + 15 + 2 + 6 + 6 + 54 + 108 + 6 + 5 = 208 = 2 + 8 = 1.
As such, aquamarine also has a vibration number calculation of 1 based on chemical formula.
However, I should state that the above calculation has its limitation or difficulty. It is due to the need to consider the Fe oxidation or the ferrous-ferric iron ratio into the computation. Therefore, the assumption is that adding Fe as part of the formula is representative of blue beryl/aquamarine.
---
3-Way Cross Referencing of Aquamarine Crystal Meaning
If you go by the norm, you might feel that aquamarine should be a crystal more for communication.
For example, for those familiar with chakra healing, aquamarine is defined as a throat chakra gemstone and deals with communication.
And the word aqua means water, which also relates to vibration number 2 (and 7).
However, as we have seen in the calculations above, the word aquamarine and its chemical formula both result in a number 1 from a numerology perspective.
We may take the view that aquamarine has vibrational energy of number 1, with an emphasis on communication. Perhaps we can say that holding an aquamarine may help the wearer to become more of a communicative leader rather than an authoritative one.
---
When Do You Need Aquamarine
So when do you need to have an aquamarine crystal or gemstone to draw on its benefits?
The common way is that people may simply look for the meanings and determine whether this is what they want.
Another way is that you can look at your numerology chart and see if your chart has the number 1. You may have that as your Character Root Number, or generally, those born before the year 2000 will always have a number 1 in the top right section of their chart.
So the next question you might ask yourself is, do you feel that you have the number 1 personality in you? If you think that you want to have more leadership qualities, and a communicative type in this case, then aquamarine will suit you.
But if you do not have a number 1 anywhere in your chart, then it is beneficial to have aquamarine by your side.
You may also choose to wear aquamarine when the day's number is number 5. You can use it to help drive your agenda across more confidently, communicating your plans effectively to your colleagues or business partners.
---
Aquamarine Accessories
As with any gemstone, there are various types of accessories or decorations available that we can acquire. It can range from tumbled stones to earrings, pendants, cufflinks, rings, bracelets, or decorative pieces.
I have curated a list of aquamarine accessories below, where I find them rather unique and try my best to keep a lookout for natural aquamarine. Some of them are rare finds where there is only one piece available. Do check them out and see if any of these suits you.
Note: The below recommendations contain affiliate links, which means I may make a small commission off purchases, but at no extra cost to you. Read my full disclosure here.
---
General Aquamarine Accessories
Tumbled Stones
I like the shape of these tumbled stones compared to the usual round ones. You can place these on your desk or carry one with you on the move. Remind yourself what aquamarine stands for and connect with the energies it brings.
---
Aquamarine Accessories For Her
Earrings
A fascinating pair of aquamarine earrings, couldn't help admire its beauty.
---
Pendants
A unique brutalist styled aquamarine pendant jewelry.
---
---
Aquamarine Pendant, Sterling Silver 925, Natural White Blue Gemstone, One of a Kind, Handmade, Quality Jewelry, Elven Pendant from ApsarasV
Pendant weight: 6.5g
Dimension: 3.3 x 2.2 x 0.5 cm
Gemstone: Aquamarine
Gemstone weight: 2.3 carats
Shape: Oval, facetted
Colour: White, slightly blue
Quality, Transparent, eye clean
Treatment: Untreated
Origin: Brazil
One of a kind elven pendant for women adorned by a natural white blue aquamarine gemstone. Quality handmade jewel in 925 sterling silver. The form of the pendant inspired by celestial geometries and elven aesthetics is harmoniously balanced with the natural delicacy of the stone. A jewel full of charm, strength and character. Quality setting both solid and delicate, designed to enhance the beauty and uniqueness of the stone that adorns it. It adapts to all styles. An original creation presented in a box of ApsarasV brand, ready to offer.
---
Bracelets
Beautiful and unique handmade 2 bracelets set – mix of pale blue and green colour aquamarine beads with oxidized 925 silver chains and beads.
---
Something simple for everyday wear, or use this when you need an added boost of vibrational energy number 1.
---
Something simple and elegant. Wear this on days where you need additional courage to deliver your message across, harnessing the vibrational energy of number 1.
---
This victorian style aquamarine bracelet is absolutely gorgeous. A stunning piece of art infused with the vibrational energies of number 1. It will positively draw the eyes of many and you will be able to grab their attention.
---
Rings
An amazing piece of Russian aquamarine fitted on a gold setting.
---
Aquamarine Accessories For Him
Bracelets
This is a beautiful leather braided black bracelet with a natural aquamarine stone, surrounded by black stainless steel spacers on each side.
It is secured with a bayonet stainless steel clasp for extra comfort and security.
This is a really great design for casual, everyday wear for both men and women. Looks great alone or stacked with the other bracelets.
---
Rings
It feels like a ring of power, and that is what an aquamarine may represent, where the vibrational energy of number 1 symbolises the leader.
---
---
Summary
I hope this article has helped to provide you with a method to determine and decide when you might want to have aquamarine by your side.
If you would like to learn more about Numerology, do Like and Follow me on any of my social media channels below to get updates whenever I release new content.
You can also sign up for my newsletter and receive a free 30-Day Personalised Daily Energy Outlook. Refresh the page, and you will see the signup form.
It is a daily guide on how I perceive the day's energy vibration, and I believe it can help you in seeking inspiration to approach your day! It also includes monthly and yearly calculations and commentary to give you a bigger-picture overview.
And if you like to continue receiving the daily guide after 30 days, you can also check out the premium service here.
---
References
1MacCarthy, G. (1925). IRON COLORATION IN ROCKS AND MINERALS. Journal of the Elisha Mitchell Scientific Society, 41(1/2), 135-137. Retrieved May 5, 2021, from http://www.jstor.org/stable/24332852