Welcome to Character Numerology and thank you for dropping by!
Have you ever:
Thought about how much you know about yourself?
Wonder how do people look at you?
Wonder why do you sometimes find it harder to communicate with someone else, such as your colleagues or even your spouse?
Wonder whether you can change your life?
If you answered yes to any of the above, I believe Character Numerology can provide you some insights. In this first article, I would like to provide you some background about why I believe in it and the numerology definition that Character Numerology is based on, as you may have tried to search for some information beforehand.
---
The Power of Numbers – A Proposition
Our fate cannot be changed if we do not know what is it going to be. But what if we can
know our fate in advance? Could we then avoid or change the bad things that may happen to us? The proposition here is that, through knowing our inherent numbers, we can change our fate as it is the key for us to better understand our future.
And these inherent numbers are found via our birth dates, where it is one of the keys that can unlock the secrets to our fate. Once the secret is unlocked, it will reveal the good and the bad, and what we might go through. It is then up to us to decide how we want to face the negative side of things in the best positive light.
---
Why do I believe in Character Numerology?
I was lucky enough to have been invited to join a Character Numerology training. I wasn't too keen to join at first as I was having a hard time at work trying to complete my project. But having been told that this teacher seldom conducts classes, and being personally interested in the area of "Feng Shui" and I like numbers/data in general, I thought I just have to squeeze out some time. And I never regretted it after that.
I have tried the calculation on myself, and at other people that I know, it gave me a refreshing insight that I found it to be true! I wouldn't say it is 100% accurate all the time, but at least on myself, the calculation reveals very accurate readings about my inner and outer character.
To me, having this framework helps me to be more conscious of myself and those around me. There are certain things that I cannot change and have to live with it but there are also certain things being revealed that I can try to correct to make my life better.
---
What is Character Numerology?
To be honest with you, when I first type "Numerology" in Google, I am confused with the many different types of numerology methodologies available. You would have found Pythagorean, Chaldean, Kabbalah, Abracadabra, and New Kabbalah if you search for "types of numerology". And there are numerous numerology related websites…
Character Numerology is based on Pythagorean which is also by far the most commonly used system of numerology. Note that on other websites, the calculated number is called the Life Path Number. However, over here, I would simply call it the character root which you will find below. There are meanings in the other number pairings too and not just the character root / Life Path Number.
---
How does Character Numerology work?
As per the Pythagorean methodology, it is taking your date of birth to calculate. An example is shown below: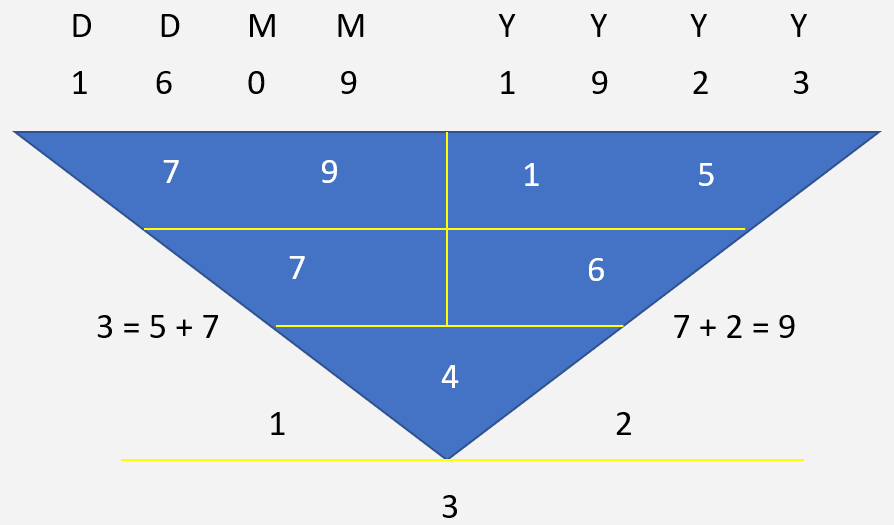 I will not go through in detail how to read the above at this stage, but one of the keys is the character root which is number '4'. And this is simply obtained by summing and reducing your date of birth to a single digit. The Character Root Number 4 represents that the person (in this case Lee Kuan Yew, Singapore's founding father) has the trait of having great planning skills and very smart.
The next important insight that we can see is the inner character, noted by 7-6-4. It describes that he has great observation, trustworthiness, gains support from the people, and has good management and negotiation skills. If you know a fair bit about Singapore history, about how Lee Kuan Yew builds up Singapore, you will agree this number makes perfect sense.
---
How would you utilize Character Numerology?
Imagine if you know someone personally who has the above inner character traits,
what would you do? How do you feel when you have to work with him/her? Do you feel more confident that he/she is trustworthy and can do a great job? I would not hesitate to work with him/her as a valuable asset to the team! But maybe we have to look at ourselves too if we are compatible…
What happens if you see an inner character trait that is not ideal instead? Do you get the idea? I believe knowing the concept of Character Numerology helps increase your chances of success in your life, provides more certainty or understanding in who you are dealing with. You can understand your spouse from a different angle, learn about certain hidden characteristics that are not quite transparent. The same goes if you maybe managing a team, you can learn about your team members' characteristics and know how to communicate with them better to build a smoother working relationship. You may also combine your birth dates with others to determine compatibility, like, whether are you suitable to start a business together?
---
What is next?
Do good deeds and cultivate good thoughts. I think this is important especially in learning such arts. We need to carry such positive energy or thinking to be beneficial to ourselves and others. That would be my mantra and I hope it aligns with you too.
In my subsequent articles, I will share with you more insights into the world of Character Numerology. Do you want to know more? Feel free to leave me a comment or question and I will try to answer you as best as I can!