There are many special numbers in numerology that will help to reveal specific life events, destinies, or specific personality traits. And specifically, in this post, we will be looking at the wealth pattern.
Now and then, you might find a towering figure that will stand out, having the charisma, talent, leadership, or a big brother feel, out there doing great things.
He is one of those that has a success story of going through hardships and emerge victorious in the end, and he might be someone you admire and idolises.
As the saying goes, no pain, no gain. But if you enjoy what you do, and have the passion for it, then the journey, no matter how tough it may be, sooner or later, you will achieve success in your own measurable way.
Having a passion for what you do means you never really need to work a day in your life. You are likely enjoying every minute of it and contributing to a greater cause.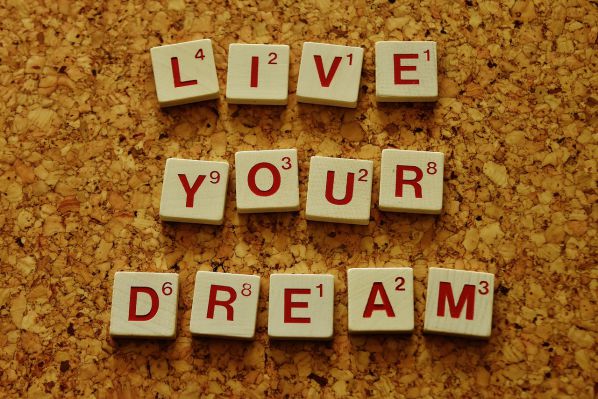 And along with that, the success you achieve will bring wealth almost naturally.
By the way, wealth may not always be just about getting rich. Wealth can also be about health and happiness, do you think so?
Everyone can do the above if we can find out our why and live out the cause. It is just that some people seem able to do it better as they are born with it.
And this is where we can identify it by looking at a person's numerology chart. As mentioned, the wealth pattern in numerology is what we will look at in this post.
---
Wealth Pattern – The 1-2-3 Combination below the Character Root Number
The wealth pattern, in this case, is denoted by observing a 1-2-3 combination that appears just below the Character Root Number. An example is shown below.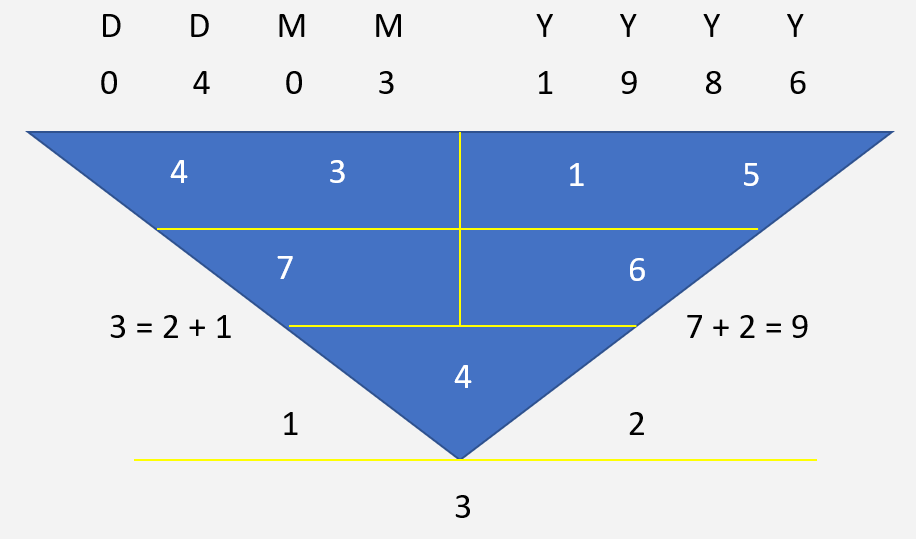 As shown in the bottom part of the numerology calculation above, people who are born with a 1-2-3 combination will have a lot of wealth luck and should earn lots of money between ages 41 to 49.
If we dig deeper into the chart above, the person has a Character Root Number 4 which means that he is intelligent and has great planning skills.
The 7-6-4 combination shows that he has a sharp observation of things around him. He is smart, a quick learner, self-disciplined, and a pragmatic individual.
And he has this aura that people tend to trust what he thinks and says, and thus gains their support and followings.
He is a capitalist, has the foresight, and prudently invests his wealth or resources to achieve even more.
---
Famous People with the Wealth Pattern
In researching for famous people with this wealth pattern 1-2-3, I have found 3 persons with this pattern. These people are Lee Kuan Yew, Richard Branson, and Tan Min Liang.
Lee Kuan Yew
Lee Kuan Yew (1923 – 2015) was the founding father of modern Singapore. He led Singapore and build the nation quickly, turning it from a third world to a first world country in around 50 years.
He formed the People's Action Party (PAP) on 12 November 1954. His success grew where he won the support of the people. Eventually, he became the Prime Minister of the self-government administration from the British colonial rule in 1959 at the age of 36.
There was a brief history where Singapore was merged with Malaysia in 1963 but that did not work out due to differences in ideals and was eventually separated in 1965.
Singapore was on its own from then, and Lee Kuan Yew was 42 years of age at that time. He pressed on to build the young nation, from addressing various matters such as the economy, strengthening military defense, population policies, anti-corruption, etc.
He ruled with passion and ensuring the livelihood of Singaporeans were taken care of. It felt like he was serving his destiny.
Through his leadership, Singapore grew quickly to become a wealthy country.
The below diagram shows his numerology calculation.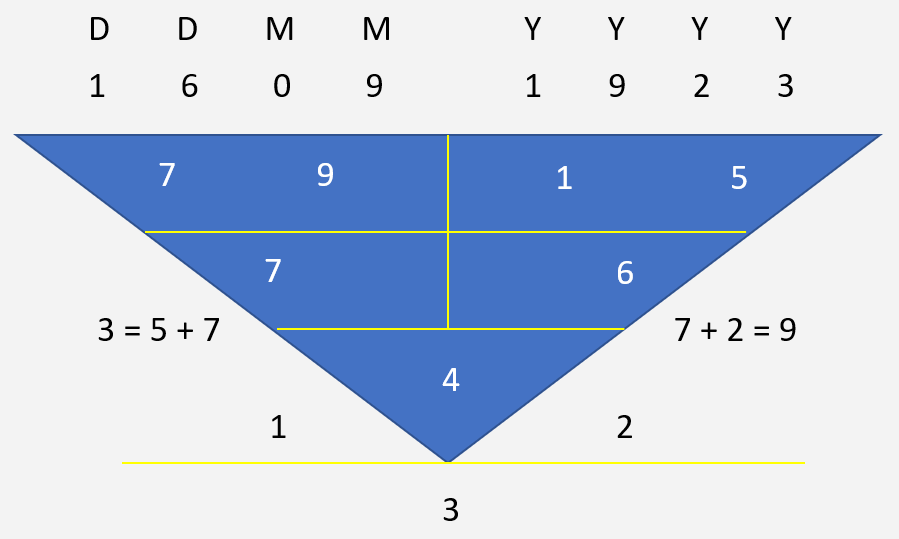 ---
Richard Branson
Sir Richard Branson was born on 18 July 1950. From young, he has wanted to be an entrepreneur. He founded Virgin Records at the age of 22 in 1972. And in 1984, he ventured into the travel industry and formed Virgin Atlantic Airways. Thereafter, he has also gone into multiple industries to date.
At a young age in his twenties, he was already a millionaire where his net worth was estimated at £5 million by 1979. And by 2006, his net worth was above £3 billion.
He was knighted in March 2000 in the Buckingham Palace for his "services to entrepreneurship".
Sir Richard Branson has been living his life to the fullest. The companies he has formed or invested in all seem to be circling his passion or interest. It felt like he has been having fun, including his world record attempts like crossing the Atlantic or Pacific oceans.
The below diagram shows his numerology calculation.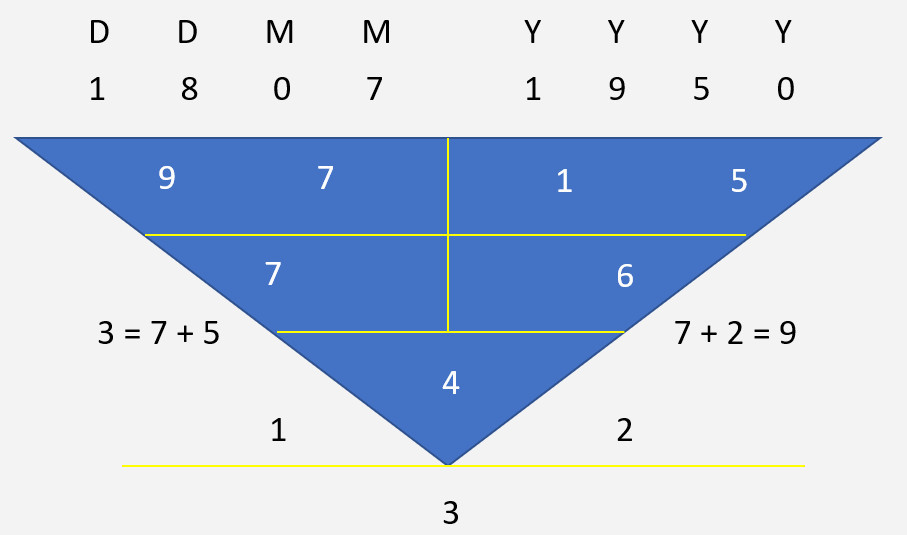 ---
Tan Min Liang
Tan Min Liang was born on 5 November 1977. He is a Singaporean entrepreneur and is best known as the co-founder, CEO, and creative director of a gaming hardware company, Razer Inc and he is also the CEO of THX.
He co-founded Razer Inc in 2005 at the age of 28. And on 13 November 2017, Razer Inc goes IPO and he became the youngest self-made Singaporean billionaire at the age of 40.
Being in the gaming industry, Tan Min Liang has a cult-like following worldwide. Some fans even tattooed his name or face on themselves!
The below diagram shows his numerology calculation.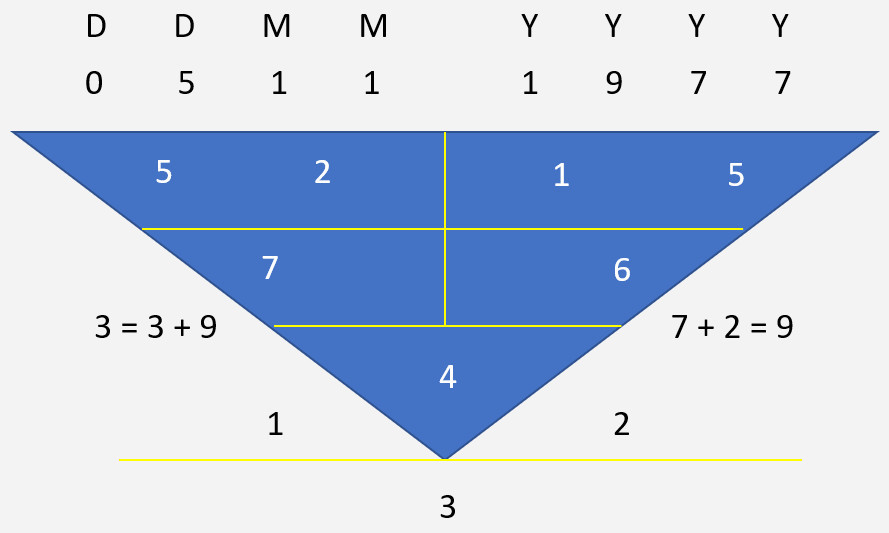 ---
Birth Dates with 1-2-3
I hope the above examples can give you a flavour on this wealth pattern. Just to recap, people with this 1-2-3 combination below the Character Root Number are likely to be successful in what they do and thus gain wealth naturally.
The below tables will further provide you an insight into what are the birth dates that will arrive at this combination. There are 3 sets that I could find and hope this is easy for you to refer to in the future. Note that the Character Root Number is different in each set.
Birth Year: 1923, 1932, 1941, 1950, 1959, 1968, 1977, 1986, 1995, 2004

Birth Year: 1920, 1929, 1938, 1947, 1956, 1965, 1974, 1983, 1992, 2001

Birth Year: 1926, 1935, 1944, 1953, 1962, 1971, 1980, 1989, 1998, 2007

Do you fall into any of these birth dates or do you know anyone who has these birth dates? I will be keen to know and do leave a comment if you do.
---
Final Thoughts
I hope you find this article insightful where we have gone through this special number in numerology.
It will be interesting to discover more examples of people with the 1-2-3 wealth pattern, so it will be helpful if you know of anyone who has this number combination and let me know.
And if you would like to keep in touch to learn more about numerology from me or be updated whenever I release new content, you can find out from either one or all of the channels below.
Do leave a comment below if you have any questions about this wealth pattern. And if you have learned something meaningful from this article, do let your friends or family know as well for their benefit.