There is a plethora of information available regarding the amethyst crystal healing properties that can be a little overwhelming. And that is where I have attempted to research and summarised them down to what I believe as the most commonly agreed properties across various sources.
The study that I have undertaken took me a few weeks to analyse across many gemstones, and you can find them in the article, Gemstones and their Meanings. If you would like to save some time to learn about the summarised meanings of the gemstones I have researched, you can head on to that article.
But of course, I would also recommend that you do your own due diligence (DYODD) if you have time.
I have also blogged about how we may apply numerology perspective into the context of gemstones to tap on their positive energies and help tune our own energies. And you can read this in my article, Numerology of Gemstones.
In this article, we will zoom into amethyst to focus on its energy properties. We will also learn how we may identify from our Numerology chart whether we should acquire amethyst to help augment our positive energies or suppress our negative energies.
Energy Properties of Amethyst
The sub-sections below describes the common vibrational energy properties and the character root number (a.k.a. life path number or vibration number) derivation for amethyst.
---
Common Vibrational Energy Properties of Amethyst
Promotes stability, peace, calmness, and balance
Provides clarity of mind to help you make wiser decisions
Protection against negative thoughts
Increase charm and attractiveness
---
Character Root Number Derivation of Amethyst
There are 2 calculation methods to derive the character root number of a gemstone. These are by chemical formula and by name.
By Chemical Formula
The chemical formula of amethyst is SiO2.
From the chemical formula, the character root number works out to be 1+9+6+6 = 4. Hence, amethyst is aligned to character root number 4 based on its chemical formula.
The positive and negative characteristics of Character Root Number 4 personality are summarised as follows:
Intelligent
Great planning skills
Values beauty
Impatient
Insecure
Very much concerned with his/her reputation
By Name
The translation of the word amethyst into its respective numbers is as shown below.
From the name, the character root number works out to be 1+4+5+2+8+7+1+2 = 30 = 3+0 = 3
Hence, amethyst is associated with Character Root Number 3 based on the name. The positive and negative characteristics of a Character Root Number 3 personality are as follows:
Action Taker
Optimistic
Energetic
Expressive
Talented
Temperamental
Impatient
Rash
---
You might be wondering what should the character root number be for amethyst, given that it can be a number 3 or 4.
What I find is that the word amethyst is an English word. While in English, the character root number of amethyst is a number 3, it will become a number 7 in Portuguese, ametista.
Hence, in my opinion, using the chemical formula has a universal approach to deriving the character root number of gemstones. It does away with the language differences.
However, we should also note that amethyst is one of the most popular semi-precious gemstones or crystals. The healing properties can be wide-ranging.
By the common vibrational energy properties that I have compiled through reading various sources on the meaning of amethyst, I find that amethyst can also be beneficial for other character root numbers such as number 3, 4, 5, 6, 7, and 8. It is more related to the application of amethyst, as in, who should have amethyst to benefit from its vibrational energies.
And from historical accounts of amethyst, we learned that it is seen as a sobriety stone, protecting the owner from drunkenness or prevent intoxication. This characteristic sits well with the nature of a Character Root Number 4, the Mastermind.
---
How do we know if we need Amethyst?
Hence, if your character root number is number 4 as calculated from your numerology chart, you should not need an amethyst because you are generally sober and thinks a lot.
Nevertheless, there is no harm surrounding yourself with a piece or two of amethyst if you want to enhance your natural analytical abilities
If you are not a character root number 4 personality, then the second thing you should look out for is whether you have a number 4 anywhere else in your numerology chart.
If you can see number 4 in other parts of your chart, ask yourself whether you find yourself to be a person who is usually well-organised, good with planning and analysis.
And if you find these characteristics lacking in you, then amethyst is something you can consider.
Lastly, if you do not have a number 4 anywhere in your chart, or find that you are not as well-organised as you hope to be, owning an amethyst or two should help enhance your vibrational energies in this area.
---
Amethyst Accessories
You can purchase amethyst as a wearable or as an ornament. As long as you have this gemstone in your surroundings, you may benefit from its vibrational energies.
The world can be somewhat unfair to the guys when it comes to gemstones. Gemstone accessories are usually for the ladies. Nevertheless, there is always something for everyone.
I have curated a list of amethyst accessories below, where I find them rather unique. Do check them out to see if any of these suits you.
Note: The below recommendations contain affiliate links, which means I may make a small commission off purchases, but at no extra cost to you. Read my full disclosure here.
For Her
Amethyst Earrings
Below are some amethyst earrings that I find them distinctive.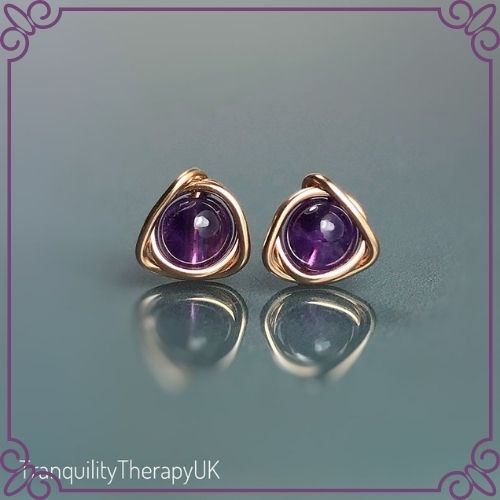 Amethyst Stud Earrings by TranquilityTherapyUK
Details:
Handmade item
Materials: Choice of 925 Sterling Silver, 14K Gold Filled, or 14K Rose Gold Filled
Gemstone: Amethyst
Location: Earlobe
Style: Rose or Round (picture shown here is Rose)
Can be personalised
Made to Order
Comes with a beautifully wrapped gift box, and a gemstone information card
Amethyst Pendants
Below showcase a few amethyst pendant selections.
---
For Him
Amethyst Cuff Links
Cufflinks are perhaps the best way for men to carry a gemstone and look professional. Below are a few selected amethyst cufflinks which I find look great.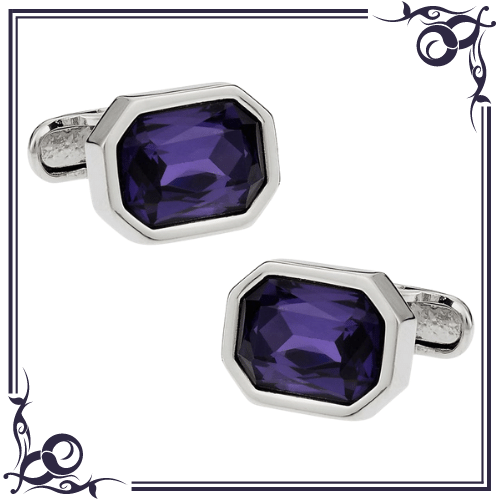 ---
Amethyst Bracelets
Gemstone bracelets are more and more common among men. Below are a few selections that I find pretty unique.
---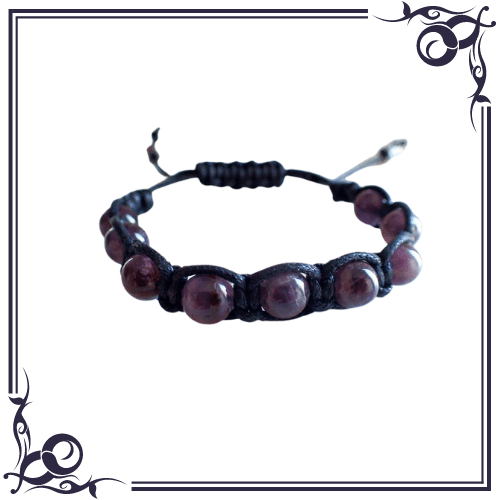 ---
Summary
I hope this article has helped to provide you with a method to determine and decide when you might want to have amethyst by your side.
If you would like to learn more about Numerology, do Like and Follow me on any of my social media channels below to get updates whenever I release new content.
Or you can also sign up for my newsletter.
And if you like this article, I will greatly appreciate your support by commenting and sharing this article to benefit more people.