Hematite gemstone generally has a shiny metallic or just shiny grey color after polish. And on holding it, it has this cooling sensation that gives a sense of calmness. The hematite healing properties may perhaps come mainly from its colour and texture.
The first gemstone I ever came across was, in fact, hematite, where I bought it as a tumbled stone. And this was way back in my college days. The shiny grey metallic stone simply caught my eye. As I recall my experience of having this gemstone, it seems to have helped me focus and study better. But at that time, I have little understanding of its healing properties though I must have read the description in the shop before I bought it.
It just seems like a marvellous object to keep.
Anyway, I have earlier written about my studies on various gemstones and their relationship to Numerology. And in this article, I would like to zoom in on just hematite, exploring the vibrational energies that may benefit us.
Do have a look at my earlier articles where you can click on the links above. These articles provide a summarised meaning of various gemstones that I have researched. And it also talks about how we can apply Numerology in the context of gemstones.
So how can hematite help us, and what benefits does it bring? In what circumstances should we use hematite to help augment or improve on our positive energies?
Energy Properties of Hematite
There are three ways we can use to formulate our understanding of the energy properties of a gemstone.
The first way is by reading up the healing properties of gemstones, where there is an abundance of information available online or through books.
Different sources or gemstone experts concerned with the gemstone healing properties may present varying views through their own experience. But what I see is that there are always commonalities amongst them.
By going through the different sources, we will gain awareness of the common healing properties. And this is what I would term as the common vibrational energy properties of a gemstone.
And from a Numerology perspective, which studies the meaning of the numbers, the name a gemstone will reveal meaning through its representative number. As we convert the alphabets of a gemstone name into numbers and reduce them to a single digit, we will arrive at a Character Root Number (a.k.a Life Path Number or Vibration Number).
The meaning of the Character Root Number is used to explain or represent the energy properties of a gemstone. And this forms the second method.
However, with the second method, I find that there can be disputes over its meaning. And this is because of the language differences. For example, Hematite is English spelling, and if we translate it to different languages, the roman alphabet equivalent may change. For instance, in Portuguese, Hematite will become Hematita. And in Japanese, it will be pronounced as Hemataito. Or in Malay, it will be Hematit.
That is where something more universal and scientific would seem more appropriate. And this universal approach is to use the gemstone chemical formula.
Regardless of languages, the chemical formula naming is the same. And it represents the elements that form the gemstone. Hence, using the gemstone chemical formula may be seen as a better choice to derive the gemstone's vibration number and its energy properties.
Nevertheless, I would find it meaningful to cross-reference to all three methods to increase the understanding of the gemstones' energy properties.
Let's take a look at the meaning of hematite using the three ways described above.
---
Common Vibrational Energy Properties of Hematite
Based on my earlier research on hematite, the common vibrational energy properties are as follows:
Grounds your mind to a calming state, enabling you to concentrate, focus, and organise yourself better.
Enhances your logical thinking and planning abilities
---
Character Root Number Derivation of Hematite using the English Name
The following shows the calculation to derive the Character Root Number of Hematite.
Based on the above, the Character Root Number is 8 + 5 + 4 + 1 + 2 + 9 + 2 + 5 = 36 = 3 + 6 = 9.
The positive and negative characteristics of a Character Root Number 9, Entrepreneur, are as follows:
Observant
Intelligent
Adventurous
Honest
Sound business acumen
Lack of focus
Greedy
Loner
Fear of failure
Lazy
Generally, when we seek to understand the gemstone energy properties, we will find positive meanings only.
Hence, when we derive the gemstone energy properties through the number meanings, the assumption is that we will only look at the positive side too.
However, on first look, if I were to cross-reference the positive characteristics of a Character Root Number 9 with the common vibrational energy properties of hematite, I find the description does not fit quite well.
Nevertheless, being observant and intelligent may be arguably relatable to the qualities of concentration, focus, organisation, logical thinking, and planning abilities.
---
Character Root Number Derivation of Hematite using the Gemstone Chemical Formula
We now look at the Character Root Number Derivation of Hematite using its chemical formula. The chemical composition of Hematite is Iron Oxide, which is Fe2O3.
The calculation is as follows:
Based on the above translation from alphabets to numbers, the Character Root Number is 6 + 5 + 6 + 5 + 6 + 6 + 6 = 40 = 4.
As such, hematite has the energy properties of a Character Root Number 4, the Mastermind.
The summary of the positive and negative characteristics of a Character Root Number 4 is as shown below.
Intelligent
Great planning skills and organisation
Values beauty (seeks perfection)
Impatient
Insecure
Reputation minded
As we cross-referenced the positive characteristics of the Character Root Number 4 with the common vibrational energy properties' definition, we will find that the nature of the number 4 characteristics feels more aligned.
It means that if you need to augment the positive energies of a planner, or if you feel a lack of such qualities, holding a Hematite will help you.
---
3-Way Cross Referencing of Hematite Healing Properties
As we had explored the three ways of determining the healing/energy properties of hematite above, what we can look out for is to observe any stark discrepancies.
In the case of hematite, we can observe that the characteristics of the Character Root Number 4, derived using the chemical formula method, match closely with the common vibrational energy properties.
When using the word hematite to compute the Character Root Number, the result is number 9. But the meaning of this number does not correlate closely to the common vibrational energy properties.
Therefore, the view we can take is that hematite has the positive energy properties of a Character Root Number 4.
---
How do we know if we need Hematite
Commonly, if you like gemstones, other than for the aesthetic look of jewelry or accessory, you will read up on its healing properties.
Through the meanings, you will then decide whether to get this for yourself or as a gift for someone, hoping that it helps you or them.
Chances are, you might wonder how genuine are such healing properties. After all, gemstone or crystal healing properties are considered metaphysics. And you might be reading up from a few sources if you want to be sure. This is essentially the first method of understanding the healing properties of a gemstone mentioned above.
So if you are also familiar with Numerology, knowing the meaning of the number and the method of calculating the Character Root Number of a gemstone will help to improve your understanding and level of confidence in the gemstone healing/energy properties.
You can consider looking at your Numerology chart to know whether or not you should get yourself a hematite stone.
If your Numerology chart shows that your actual Character Root Number is a number 4, you do not really need hematite since you already have such qualities.
Nevertheless, there is no harm surrounding yourself with a piece or two of hematite if you want to enhance your natural analytical abilities.
If you are not a character root number 4 personality, then the second thing you should look out for is whether you have a number 4 anywhere else in your numerology chart.
If you can see number 4 in other parts of your chart, ask yourself whether you find yourself to be a person who is usually well-organised, good with planning and analysis.
And if you find these characteristics lacking in you, then hematite is something you can consider.
Lastly, if you do not have a number 4 anywhere in your chart, or find that you are not as well-organised as you hope to be, having hematite with you should help enhance your vibrational energies in this area.
---
Hematite Accessories
As with any gemstone, there are various types of accessories or decorations available that we can acquire. This can range from tumbled stones to earrings, pendants, cufflinks, rings, bracelets, or decorative pieces.
I have curated a list of hematite accessories below, where I find them rather unique. Some of them are rare finds where there is only one piece available. Do check them out to see if any of these suits you.
Note: The below recommendations contain affiliate links, which means I may make a small commission off purchases, but at no extra cost to you. Read my full disclosure here.
General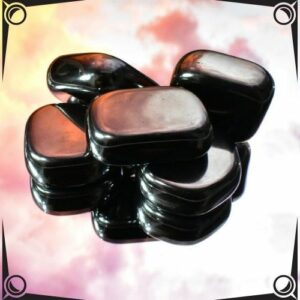 ---
---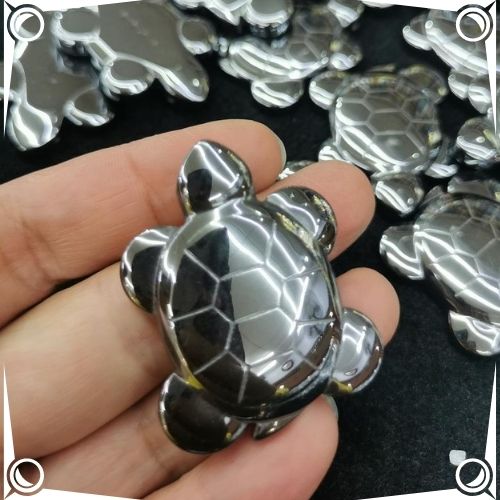 ---
For Her
Hematite Pendants
Wire wrapped bohemian copper necklace pendant with natural Hematite Gemstone.
Copper was oxidised to create antique look and to highlight the details of the wire work.
---
---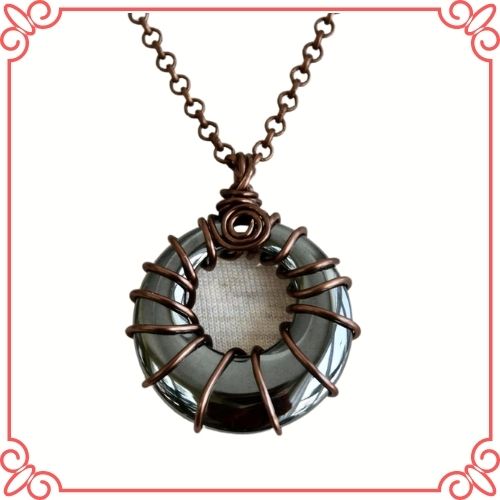 Other Information:
Glossy Hematite circular pendant wrapped in antique copper wire. Able to choose between copper plated chain or black cord if preferred.
---
For Him
Hematite Cuff Links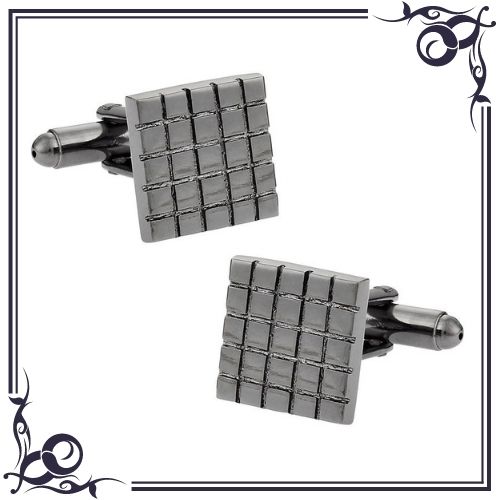 ---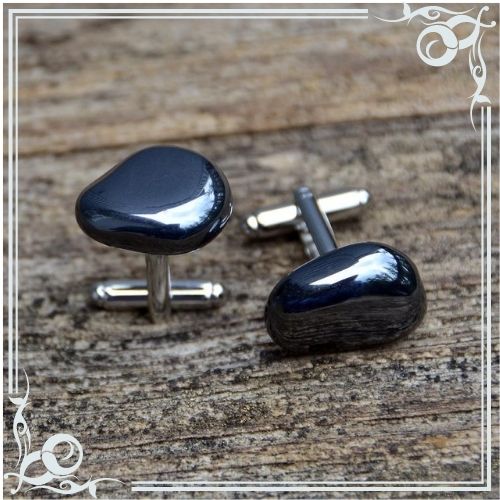 ---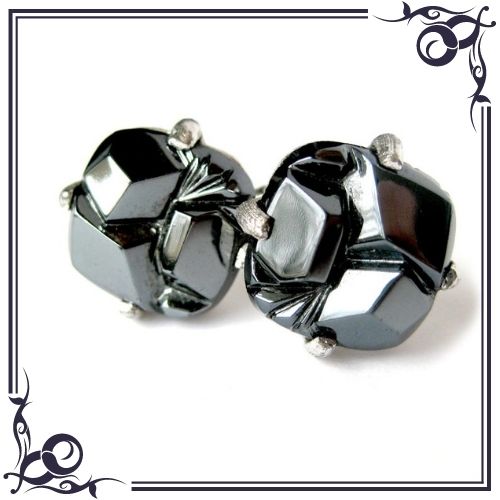 Other Information:
Each measures approximately 3/4″ square.
They are signed Sarah Coventry.
---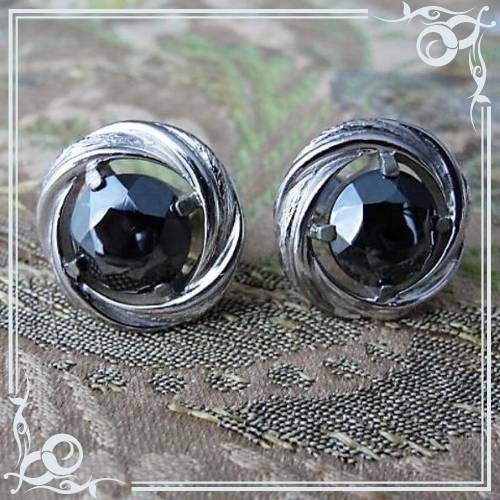 Other Information:
Cuff links are marked Senator
Measure 0.75 inches (1.9cm)
Rare find, only 1 available.
---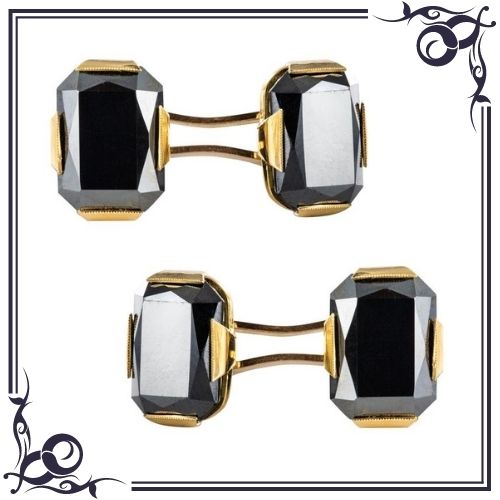 Product: Hematite Cuff Links from BijouxBaume (Certified French Estate and Vintage Jewelery)
Details
Vintage from the 1930s
Jewelry style: Art deco
Materials: Gold, Hematite
Other Information:
Only 1 available.
Pair of yellow gold cufflinks, 750 thousandths, 18 carats, eagle head punch.
Each cufflink consists of two rectangular hematites held by 4 large claws, connected by a long musket.
Height: 12.9 mm, width: 10 mm, thickness: 3.8 mm, length of the musket: about 20 mm.
Total jewel weight: about 9g.
Sold certified and guaranteed. The certificate of authenticity will accompany the jewel.
---
Hematite Pendants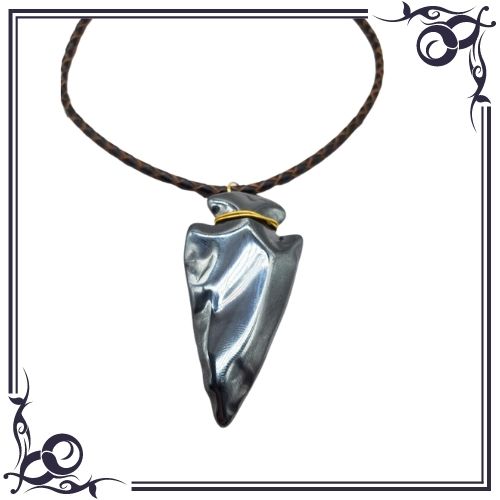 ---
Summary
I hope this article has helped to provide you with a method to determine and decide when you might want to have hematite by your side.
If you would like to learn more about Numerology, do Like and Follow me on any of my social media channels below to get updates whenever I release new content.
You can also sign up for my newsletter and receive a free 30-Day Personalised Daily Energy Outlook. Refresh the page, and you will see the signup form.
It is a daily guide on how I perceive the day's energy vibration, and I believe it can help you in seeking inspiration to approach your day! It also includes monthly and yearly calculations and commentary to give you a bigger-picture overview.
And if you like to continue receiving the daily guide after 30 days, you can also check out the premium service here.